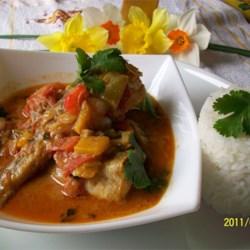 "This super easy but hearty dish is full of flavor and absolutely delicious! It's a simplified version of a common Brazilian dish that I remember from my childhood and it's become a favorite even among my kids and I, even though we don't like fish! This can be made easily on the stovetop for a no-fail convenience meal. Serve with hot rice or warm tortillas."
Original Recipe Yield 6 servings
Ingredients
3 tablespoons lime juice
1 tablespoon ground cumin
1 tablespoon paprika
2 teaspoons minced garlic
1 teaspoon salt
1 teaspoon ground black pepper
500g of any white fish fillets, cut into chunks
2 tablespoons olive oil
2 onions, chopped
4 large green peppers, sliced
1 can diced tomatoes, drained
1 can coconut milk
1 bunch fresh cilantro, chopped (optional)
Directions
Stir together the lime juice, cumin, paprika, garlic, salt, and pepper in a bowl. Add the fish and toss to coat. Cover and refrigerate at least 20 minutes, up to 24 hours.
Heat the olive oil in a large pot over medium-high heat. Quickly fry the onions in the oil 1 to 2 minutes. Reduce heat to medium. Add the green peppers, fish, and diced tomatoes to the pot in succeeding layers. Pour the coconut milk over the mixture. Cover the pot and simmer 15 minutes, stirring occasionally. Stir in the cilantro and continue cooking until the fish is completely cooked through, another 5 to 10 minutes.
Nutritional Information
Amount Per Serving Calories: 359 | Total Fat: 21.8g | Cholesterol: 42mg