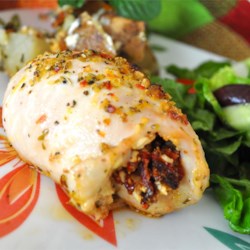 This is an easy stuffed chicken breast that is absolutely yummy.
Original Recipe Yield 2 chicken breasts
Ingredients
1 jar sundried tomatoes
1/3 cup lemon juice
1/3 cup extra-virgin olive oil
2 tablespoons Greek seasoning
2 teaspoons lemon zest
2 skinless, boneless chicken breast halves
125g  crumbled feta cheese
6 chopped sun-dried tomatoes
10 pitted and coarsely chopped kalamata olives (optional)
1 tablespoon oil from the sun-dried tomatoes
4 strips roasted red pepper
Directions
Whisk together the lemon juice, extra-virgin olive oil, Greek seasoning, and lemon zest in a bowl. Pound the chicken breasts between sheets of wax paper or plastic wrap to a thickness of about 6mm. Marinate the chicken in the lemon marinade at least 30 minutes. Meanwhile, stir together the feta cheese, sun-dried tomatoes, kalamata olives, and 1 tablespoon of oil from the jar of sun-dried tomatoes in a small bowl; set aside.
Preheat oven to 180 degrees C.
Remove the chicken from the marinade, and shake off excess. Discard the remaining marinade. Divide the stuffing mixture onto each piece of chicken. Fold the edges of the chicken over the filling, and secure with toothpicks. Place onto a baking dish, seam-side down, and place two roasted pepper strips onto each stuffed breast.
Bake in the preheated oven until the chicken is no longer pink, about 30 minutes. Remember to remove the toothpicks before serving.
Nutritional Information
Amount Per Serving Calories: 838 | Total Fat: 65.8g | Cholesterol: 147mg