| | |
| --- | --- |
| Posted by Admin on April 21, 2011 at 5:45 AM | comments (0) |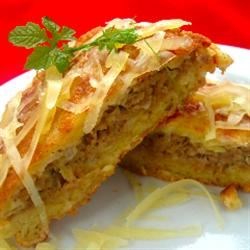 "Very yummy potato pancakes with ground beef inside. So good! You can change it up the way you like. Serve with sour cream. These are even good next day! "
Original Recipe Yield 6 servings
Ingredients
8 potatoes, peeled and grated
1/4 cup all-purpose flour
1/2 teaspoon baking powder
3 eggs
salt and black pepper to taste
Filling:
250g ground beef
1/2 onion, grated
1 pinch garlic salt
1 egg
1/4 cup bread crumbs
2 teaspoons vegetable oil
Directions
Mix together the potatoes, flour, baking powder, 3 eggs, and salt and pepper in a bowl. In another bowl, mix the ground beef, onion, garlic salt, 1 egg, and bread crumbs until well-combined.
Heat the oil in a pan over medium-low heat, and drop a rounded tablespoon of potato mixture into the hot skillet. Spread and flatten the pancake out a little, and place about 2 teaspoons of beef mixture on the pancake, spreading the filling out almost to the edges of the pancake. Drop another rounded tablespoon of potato mixture on top of the beef, and spread it out to completely cover the beef. Fry until the bottom of the pancake is golden brown, about 5 minutes, then flip and fry the other side until golden, 1 to 2 more minutes.
Nutritional Information
Amount Per Serving Calories: 389 | Total Fat: 9.9g | Cholesterol: 165mg