| | |
| --- | --- |
| Posted by Admin on April 5, 2011 at 9:48 AM | |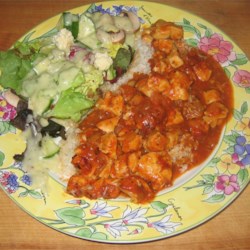 Chicken breasts baked with a tomato, beer and curry sauce. Easy preparation with a gourmet touch and taste; my family loves it. Serve with new red potatoes and drizzle sauce over the potatoes, if desired.
Original Recipe Yield 4 servings
Ingredients
4 skinless, boneless chicken breast halves
50 g butter
1 onion, chopped
150 ml beer
1 (420g) can condensed tomato soup
1 tsp curry powder
1 tbsp dried basil
1 pinch ground black pepper
2 tbsp grated Parmesan cheese
Directions
Preheat oven to 180 degrees C.
Place chicken in a 20 x 30cm baking dish. Melt butter in a medium skillet over medium heat. Saute onion, then stir in beer, soup, curry powder, basil and pepper. Reduce heat to low and simmer for about 10 minutes, then pour over chicken.
Bake at 180 degrees C for 1 hour; sprinkle with cheese for last 10 minutes of baking.
Nutritional Information
Amount Per Serving Calories: 264 | Total Fat: 8.5g | Cholesterol: 84mg