| | |
| --- | --- |
| Posted by Admin on April 11, 2011 at 2:13 PM | |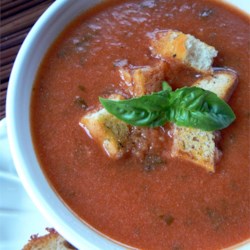 "The secret to the richness of this soup is to use real butter, fresh basil leaves, and heavy cream. Please do not substitute, or you will not have the same high quality end result."
Original Recipe Yield 4 servings
Ingredients
4 very ripe tomatoes - peeled, seeded and diced
4 cups tomato juice
14 leaves fresh basil
1 cup heavy whipping cream
1/2 cup butter
salt and pepper to taste
Directions
Place tomatoes and juice in a stock pot over medium heat. Simmer for 30 minutes. Puree the tomato mixture along with the basil leaves, and return the puree to the stock pot.
Place the pot over medium heat, and stir in the heavy cream and butter. Season with salt and pepper. Heat, stirring until the butter is melted. Do not boil.
Nutritional Information
Amount Per Serving Calories: 473 | Total Fat: 45.4g | Cholesterol: 143mg